After a great run, the Winning the Internet blog has been retired. However, you can still keep in touch with New Media Mentors here.

M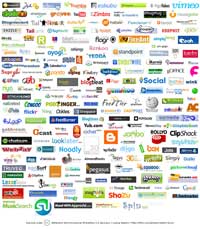 y first introduction to new media happened in a conference room in DC in 2006. Huge thanks to Pete Leyden, then director of the New Politics Institute and his keynote (hadn't heard of it) presentation on the monumental changes taking place in technology, media and demographics. Part of NDN's new tools campaign to help "progressives understand the transformation of politics" was, quite frankly, stunning.
The world of new media was, well, new to me. Hard to admit, being late to the table and all, but it also occurred to me at the time that I probably wasn't the only one. Maybe others wanted to find out what all this was about?
Right about the same period of time, I noticed an interesting (and challenging) trend happening at work. Part of our job was to provide trainings, reports, studies, memos, workshops and a whole slew of presentations on the many aspects of strategic communications to help non- profits be more effective in their work.
Groups would spend a day or days "learning" about how to design a campaign, develop messages, speak to reporters, etc. But often by the time they got back to their desks, they didn't know what to do—or how to do things differently.
This was no one's fault. Really. It wasn't about the quality of the work or the interest of the participants. Learning and adopting new skills can be difficult and challenging for everyone.
So that brings me to the "mentoring" part of New Media Mentors. Our approach is based on the notion that learning often happens best by doing—especially when someone who knows a little more than we do helps us try things out. It's a little like therapy or exercise in that you have do it over time to get anything out of it. I can assure you, though, this is much more fun.
So with the personal drive to learn what the hell was going on in this crazy new world of new media, the suspicion that others might too and the interest in approaching learning in a very particular way, New Media Mentors came to be.
We launched in January of 2011, and in our first pilot year will work with a total of seven groups: California Immigrant Policy Center, International Development Exchange, Chinese for Affirmative Action, Green Corps, Pesticide Action Network, Mujeres Unidas Y Activas and Californians for Justice.
The idea is to work with organizations (selected twice a year) week in and week out over a period of six months to help them clearly identify their goals and strategies and then meet with them in person or by phone to coach them as they try things out. That often includes making mistakes, changing course, finding what works and ultimately experiencing success.
You can learn more about New Media Mentors here including a sample training calendar and who we are.
We'd also like to hear from you.
If you're interested in inquiring about applying, and meet these criteria please get in touch.
Thanks for stopping by! We hope you'll come back soon.