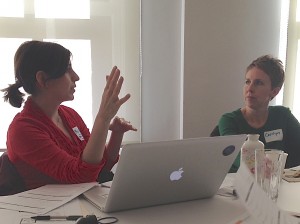 Each mentorship is tailored to the specific needs of the group we work with and includes:
An initial full-day training session covering online tools and case studies
A comprehensive audit of a groups online presence and activities
An in-depth strategy session to determine the focus of the mentorship
Two hours + per week with the mentor to work on training, campaign planning and implementation (virtually or in person)
Three executive mentoring sessions
Weekly assignments and a practical project or campaign
Special trainings with outside experts and specialists
Real time feedback on new media work via phone and email
A final audit to track and analyze progress
A "roadmap" at the end of the mentorship to outline next steps
Access to a wide range of experts in the field
Attendance to the Netroots Nation conference
Follow up assistance for a year following the end of the mentorship
Sample calendar
Each mentorship will be customized to needs of the organization. However, this sample calendar approximates how the mentorship will progress. Each organization will spend two hours per week working with their mentor on trainings, campaign planning and implementation and be expected to spend an additional one to three hours per week working independently on related assignments.
Month 1
Week 1
Introduction and strategy session
Week 2
1st New Media Assessment development (no meeting)
Week 3
1st New Media Assessment development (no meeting)
Week 4
1st New Media Assessment development (no meeting)
Month 2
Week 5
1st New Media Assessment development (no meeting)
Week 6
Full-day training: Tools review, strategic planning, case studies
Week 7
1st New Media Assessment review
Week 8
Tactical training & implementation: Email
Month 3
Week 9
Tactical training & implementation: Blogger outreach
Week 10
Tactical implementation: Blogger outreach
Week 11
Tactical training & implementation: Facebook
Executive mentorship meeting
Week 12
Tactical training & implementation: Twitter
Month 4
Week 13
Tactical training: Websites & Google Analytics
Week 14
Tactical training: Google Adwords
Week 15
Tactical implementation: Google Adwords
Practical campaign: Planning
Executive mentorship meeting
Week 16
Practical campaign: Planning
Month 5
Week 17
Practical campaign: Planning
Week 18
Practical campaign: Implementation
Week 19
Practical campaign: Implementation
Executive mentorship meeting
Week 20
Practical campaign: Implementation
Month 6
Week 21
Roadmap: Introduction
Week 22
Roadmap: Part 1
2nd New Media Assessment: Pull data
Week 23
Roadmap: Part 2
Week 24
Roadmap: Conclusion
2nd new media assessment