After a great run, the Winning the Internet blog has been retired. However, you can still keep in touch with New Media Mentors here.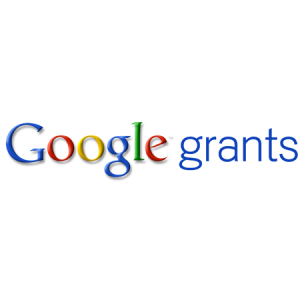 Yesterday I talked about how to get your Google Grants account up and running with less than an hour of work. Today's post is for folks that are interested in spending a little more time optimizing their account.
I recently attended a Nonprofit Teach-In at Google's Mountain View campus. It was a nerd's dream come true – I was able to spend two full hours with a Google AdWords expert, digging through Netroots Foundation's account and asking questions about maximizing our Google Grant. Below are the four biggest take-aways from that conversation.
1. Change the delivery method to Accelerated
When you create a campaign, the default settings tell AdWords to show your ads evenly over time. If a keyword generally gets about four clicks a day, Google will try to spread those clicks out evenly throughout the day. So, if someone clicks on your link at 8am, Google might not show your ad again until 11am. This works well for for-profit companies that have limited budgets and don't want to face a rush of traffic in the morning and nothing in the afternoon (because they've exhausted their budget for the day).
For Grants users, we want to spend as much of our $330/day budget as possible. So, it's important to change this setting. To do so, click on a campaign, then click the "Settings" tab. Under "Bidding and budget", change the delivery method to "Accelerated". Be sure to make the change for each of your campaigns.

2. Setup conversion tracking
The ultimate goal for most nonprofit websites is for the user to take action, make a donation, or join an email list. You can track how well your AdWords terms lead to these actions (called "conversions" by Google) by adding some code to your confirmation pages. One thing to note—only add this code to pages that can only be reached by taking the desired action.
You can find this code by clicking "Tools and Analysis", then "Conversions", then "+New Conversion". Give the conversion a name (ex: Joined email list), then click "Save and continue".
Select an appropriate category, or leave it as "Other". Select "HTTP" or "HTTPS" for "Page security level" (depending on the landing page), and select "Don't add a notification to the code generated for my page". (Note: If you're concerned that this is in conflict with your privacy policy, either update your privacy policy or select "Add a 'Google Site Stats' notification to the code generated for my page".) Click "Save and continue".
Next, answer the question "Who makes changes to the code on your website?", follow the instructions provided to add the code to your confirmation page, and click "Done".
Once you've added the code, you'll not only see the number of clicks in your campaign reports, but also the number of conversions and the conversion rate.
3. Clean up your account
One of the things AdWords uses to determine if your ad will show or not, is Quality Score. Most of us think of the Quality Score as a numerical representation of the relevance of the search term to the landing page. This is a big part of the Quality Score, but there are also several other factors, including the status of your account overall. Essentially, Google can penalize your whole account for running words that are irrelevant to your organization or site (as judged by having a low click-through rate). So, you can boost your quality score by pausing terms that are not performing.
Start by setting the date for a large range of time (3 weeks to a year should work). Take a look at your keywords and sort them by click-through rate (CTR). Pause terms that have a 0% click-through rate. Take a critical look at terms that have a click-through rate between 0% and 0.75%. Pause those terms unless they seem particularly relevant to your organization or mission.
4. Expand your keywords
One way to spend more of your $10,000/month grant is by expanding your list of keywords. This can be a bit tricky—you're looking for keywords that are highly relevant to your site, that you haven't thought of yet. There are three tools that are built into Google AdWords that can help you do this:
Opportunities
The Opportunities tab can be a great source of new keywords. Just click "Opportunities", then click on one of the "Ideas". Go through the list with a critical eye (I've seen both great and horrible suggestions) and check the box next to each of the terms you'd like to add to the ad group. When you're done, click "Apply Now" to add the terms.
See search terms report
Most of the time when you're looking at your AdWords account, you're looking at the keywords you selected. The "See search terms" report allows you to see what people are actually searching for (which may be a variation of the terms you're running). It's helpful to check this report periodically to learn about how people are searching for your organization or issue, and get ideas for new keywords. To take a look at this report, set the date range to at least a couple of weeks, then click on "All online campaigns". From there, click on the "Keywords" tab, then check the box next to "Keyword" (this will automatically check the box next to each of your keywords). Then click "See search terms", then "All". Tada!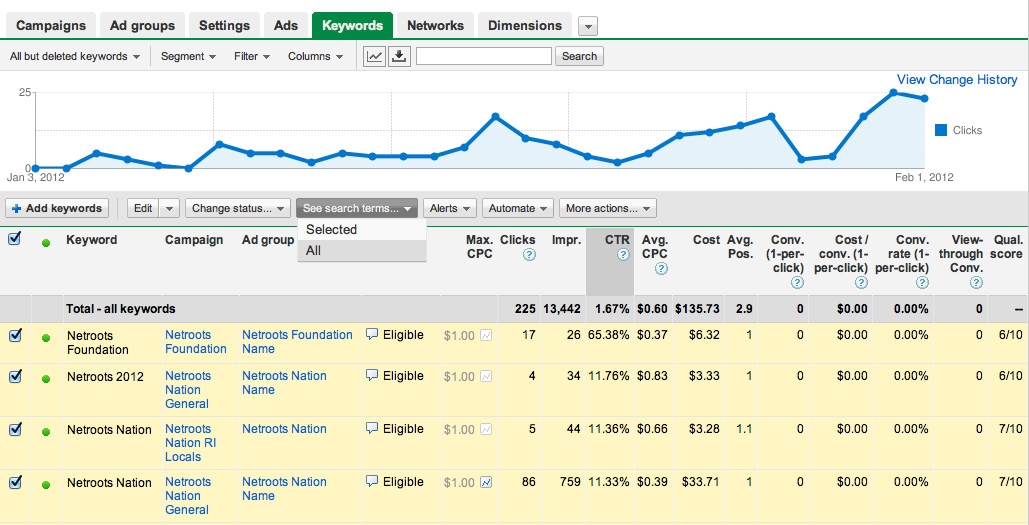 Keyword tool
You can also use Google AdWords' keyword tool to come up with ideas for new keywords. Just click "Tools and Analysis", then "Keyword tool". You can enter the url of your website to get ideas, or type in some of your most successful terms.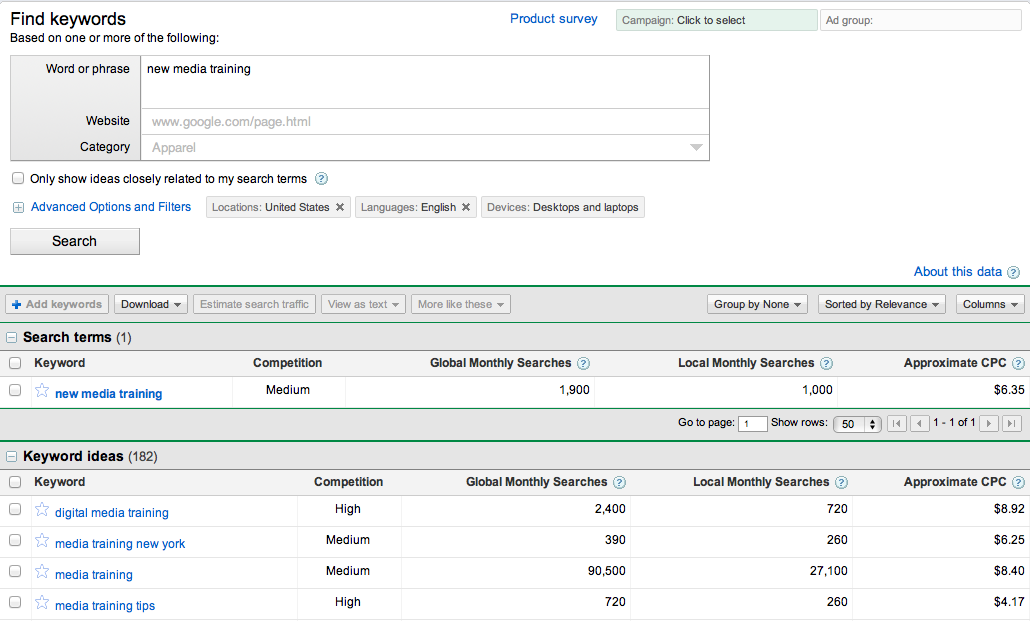 Geographic, interrogative and position queries
This last suggestion comes from our friends at e.politics. When working on your list of keywords, don't forget to include geographic, interrogative and position queries:
Geographic Queries
Since equality legislation varies from state-to-state, appending state and city names to queries has produced excellent results. Some examples are: gay marriage California; marriage equality Maryland; lgbt church Nashville

Lists of state names and of the most populous cities in the U.S. are readily available on Wikipedia, and large volumes of keywords can be generated using simple search/replace macros.

Interrogative Queries
A popular query format often overlooked is the interrogative query. These show up in both Google Analytics traffic source reports, as well as internal site search logs. Some examples are: Am I a lesbian?; What is gay marriage?

Position Queries
Where a topic is controversial, there is usually a lot of search traffic for research, particularly where the searcher is looking for information with a certain viewpoint. It's valuable to capture all of that traffic, whether in line with your viewpoint or not. Some examples are: pro same sex marriage; gay marriage cons; examples of lgbt civil rights violations; for marriage equality; arguments against homosexuality
If you have a little bit of time to play around with your account, definitely give these a try! I applied these suggestions to our Netroots Foundation account and our traffic from Google Grants has been increasing steadily ever since. It might take a few days or even a week for it to make a difference (AdWords needs time to adjust the Quality Score, etc.), but you should ultimately see a boost in clicks and click-though rate.