After a great run, the Winning the Internet blog has been retired. However, you can still keep in touch with New Media Mentors here.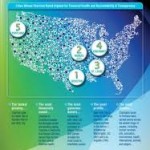 For many social media channels, the name of the game is compelling visuals including infographics.
If you're inclined to produce one (based on goals, right?) you'll likely want to know how much they cost.  It's not an exact science considering the many different factors involved. (A little like buying a car:  What model? How many miles? New or used? You get the pic.)
Our colleagues in the field have given us a broad range when it comes to hiring a professional to create a custom infographic.
On the very lowest end they quoted several hundred dollars.
But likely the cost will be higher than that given the elements needed: research, copywriting, design and production. A more robust infographic may cost between $3,000 all the way up to $8,500. (Those figures are from a real world project.)
If an internal staff member is going to take on the project, it's important to consider the number of hours needed. We've heard an estimate of 20 hours or so, so you can figure the cost from there.
Given the range of variables, here are some questions to consider when budgeting:
What are your goals?
Who's doing the research or producing the data? (In house or not?)
Is it one simple idea you're trying to convey or something more complicated?
How are you going to use this? For your social platforms? Website? Media? Other?
What level of design and production do you need?
There are also several free tools available, though consider these with a grain of salt. While much has been written about the "free" tools to create infographics, like this piece from Smashing Magazine, many of these options will help you produce more of a "cookie cutter" visual. Infographics designed by professionals will be more distinct.
And while the software is  "free," the time it takes to learn a new tool and produce an infographic is not. (Think time = $.)
So, while it's true that there will be a wide range of possibilities to consider, infographics may cost more to produce than you think. Worth pondering before you take the plunge.