After a great run, the Winning the Internet blog has been retired. However, you can still keep in touch with New Media Mentors here.

One part Twitter, one part Facebook, and three parts Kickstarter, with a twist of advocacy. That's roughly the ingredient list for what goes into Thunderclap, a social media "crowdspeaking" platform launched earlier this year, and potentially a game changer for increasing the effectiveness of advocacy campaigns through social media.
How It Works
According to the description on their website, Thunderclap "helps users be heard by saying something together." The platform aims to amplify the impact of posting on Facebook or Twitter by pushing out the same message from tens or hundreds of different people at the same time. The idea is that one big push may allow the message to cut through the ever-present noise on social media, something that might not happen if users were all to post individually at different times.
The way the system works is very similar to how Kickstarter works: you set a goal that needs to be reached by a target date and time, in order for the campaign to succeed. In the case of Kickstarter, the goal is an amount of money, and success is collecting that money to fund your project. In the case of Thunderclap, the goal is a specific number of people who have committed to post on social media, and success is all of those posts going out at the same time.
Trying It Out
Last month, I decided to try out Thunderclap to see how (and how well) it worked. A new campaign had just been started by the good folks over at Color of Change to push back against some rather blatant voter-suppression billboards that had been erected in Black and Latino neighborhoods of Cleveland, Ohio. Color of Change had launched a petition targeted at Clear Channel Media, the company who owned the billboards, asking them to take the billboards down. I decided to see if I could help by creating a Thunderclap campaign to get the message out and convince more people to sign the petition.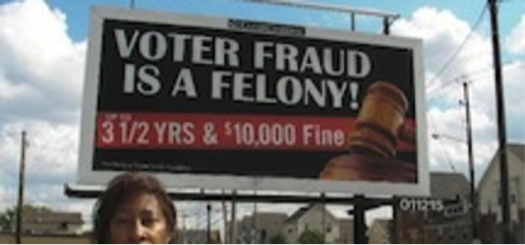 One of the voter-suppression billboards in Cleveland, Ohio
For my campaign against the voter-suppression billboards, I decided to set a goal of 100 supporters (the minimum allowed) who would need to sign up to post within 14 days of my campaign launching. My campaign message was:
Tell #ClearChannel: Stop running billboards promoting voter suppression in Black & Latino neighborhoods! #LetUsVote
A few filled-out text fields and clicks later, and I had created my campaign. After that came the hard part: getting people to sign up. I spent the next five days reaching out to friends and colleagues via Facebook, Twitter, email, IM, and in person, convincing them they needed to join the Thunderclap. It took quite a bit of effort, but I was eventually able to get the required number of people to sign up.

My Thunderclap launched with exactly 100 supporters, with a combined reached of 255,981 people. I have to admit, it was pretty thrilling to watch tweet after tweet appear in my Twitter feed, all pushing the same message. The downside was, after twenty minutes, things had gotten pretty quiet – there was the occasional retweet and comment on Facebook, but it all seemed like barely a whisper compared to the noise of the Thunderclap going out.
The Good, The Bad, and The Ugly Helpful Tips
After setting up and running a complete campaign, I found some features of Thunderclap that worked quite well and some that didn't. There are also a few things that I would do differently next time around.
The Good:
Ease of use: Thunderclap campaigns are very easy to set up – it took me a total of less than 10 minutes to create an account using my Facebook login, draft the small amount of required copy, upload a photo, and launch the campaign. The system explains everything very clearly through the entire process.
Good customer support: One of Thunderclap's support representatives got in touch with me once I had created my campaign and let me know that it had been made active. Later, after 100 people had signed up to post, I reached out and ask if he could move up my Thunderclap launch date, since waiting the full 14 days would diminish the impact of the launch. He promptly replied and changed the launch time to later that same day, and answered several follow-up questions I had about the launch later on.
It's a group effort: Along with number of supporters, every Thunderclap campaign shows the total social media reach for all supporters. Once you've signed up to support the campaign, it also shows you how much you've added to that reach. Seeing your contribution to the larger effort makes the act of joining feel much more worthwhile than if you just posted to your own social media account in isolation.
Good performance on Twitter:Using Thunderclap with Twitter seemed to work quite well, for several reasons.

High reach – There's no limit to how many followers someone can have on Twitter, and several of the accounts that signed up had sizable followings: @MoveOn with 77,193, @AFLCIO with 28,884, and @heif with 16,275. Those three accounts combined accounted for nearly half of the total campaign reach.
Retweets – Of the 100 campaign supporters, 78 signed up to post on Twitter. From those 78 tweets, there were a total of 160 retweets, more than twice the original number. This allowed the message to spread much farther than just the original blast.
Potential for trending – If a hashtag from a Thunderclap post began to trend on Twitter, it would reach a much larger audience than you'd get from just the initial blast. This unfortunately did not occur for the #LetUsVote hashtag from this campaign, but a larger campaign with more retweets might have a better chance of getting that to happen.
The Bad:
Twitter/Facebook app authorization: In order to push all the social media posts out simultaneously, Thunderclap requires supporters to authorize an application with their Facebook or Twitter account. This is a major barrier to entry for a lot of people, and it makes it much more difficult to get folks to join the campaign.
Bad performance on Facebook:Thunderclap's impact on Facebook appeared to be quite minimal in the end. A few different factors contributed to this:

Fewer supporters – Only 35 people signed up to post on Facebook, despite it being used by far more people than Twitter. Pledging a Facebook post may seem like a much bigger commitment to people than pledging a tweet.
Collapsed posts – For anyone who had more than one Facebook friend join the Thunderclap, the posts showed up as a collapsed list that had to be manually expanded to see them all – the perceived breadth of support is much lower with this method of display.
Limited reach – Only individual accounts, not Facebook pages, could join the Thunderclap, which meant that the reach for each person was limited to their number of friends. This resulted in a much lower overall reach than was achievable on Twitter.

No Twitter handles allowed: When I originally drafted the message for my Thunderclap campaign, I started out with "Tell @ClearChannel", in order to actually send all the messages to Clear Channel's Twitter account. Unfortunately, Thunderclap does not allow Twitter handles to be included in posts, which lowers the impact of targeted messages.
Hard to assess impact: Once the Thunderclap goes out, it can be very difficult to assess what impact it actually had. I was very pleased that five days after the Thunderclap launched, Clear Channel took down the offensive billboards. However, there had been extensive campaigning against them by Cleveland city officials, as well as Color of Change and other groups, so it's pretty much impossible to know how much the Thunderclap contributed to this, if at all.
Helpful Tips:
Keep your text short enough for retweets: For my campaign, I made the mistake of drafting text that (including the link) was 136 characters long. This prevented anyone from doing a manual retweet of posts on Twitter, which may have resulted in fewer total retweets and also hurt the chances of the hashtag trending. A shorter message would likely get shared more.
Include a retweet ask: One of the best ways to get more retweets is to just ask your followers to do it. Including "Pls RT" in the message could get even more people to share it.
Edit your post description when sharing on Facebook: When someone posts your Thunderclap campaign on Facebook, the default description is "I just supported CAMPAIGN TITLE on Thunderclap!" If you're trying to recruit supporters by sharing it from your own account, you'll likely have better luck if you change it to something more compelling than that.
Is It Worth It?
I would say the jury's still out on how much of a game changer Thunderclap really is – there's some interesting potential there, but it's difficult to say at this point whether the gain is worth the effort.
I do think it's worth further investigation, though, and I'm planning on trying it for other campaigns in the weeks and months ahead. And if you're curious, I'd encourage you to do the same, and let me know how it goes!