After a great run, the Winning the Internet blog has been retired. However, you can still keep in touch with New Media Mentors here.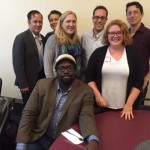 We just launched our 8th cohort of mentees –(the 23rd and 24th group we've worked with) on what we call "Opening Day." That's when we get together in person to meet each other, get inspired and talk shop.
Last week, Opening Day included staff and executives from Maine People's Alliance and Missouri Jobs with Justice.  Two guest speakers also joined us.  B Loewe from the #notonemore deportation campaign and William Winters from Citizen Engagement Lab who talked about Color of Change's campaign to protect net neutrality.
B walked us through their campaign on ending deportation – how they designed it, rolled it out and how they won, at least in part. The depth and breadth of their work included compelling video of personal stories, clear targeting of both the opposition and their supporters at all levels, work with traditional and social media across platforms and an organizing team adept at both online and offline work.
William also talked about what it takes to win, including staying in for the long haul, mobilizing constituencies and shining the light on the opposition (and in this case, their ties to the telecom industry.)
Next up: our session on "How to Win the Internet" presented the New Media Mentors "method" which includes mastering leadership, knowledge, collaboration and budgeting.
After lunch at Henry's Hunan in San Francisco, we reconvened to talk about building effective campaigns and what it takes to win over time.
We heard about fighting for immigrants' rights in Maine, where refugees come to escape terrorist regimes.  Many of these refugees find themselves in the United States with no place to live and nowhere to work. Maine People's Alliance has fought to protect them.
We heard from both Maine People's Alliance and Missouri Jobs with Justice about their campaigns to raise the minimum wage in their states and what's ahead.
Finally, we talked about culture change – and the components that need to be in place to shift organizational culture to support robust online work.
Our role at New Media Mentors is to support and mentor groups in any and all ways that are useful to them. For some, that will mean mastering testing and analytics, and for others that will mean integrating on and offline work. There are many different possibilities depending on what the groups need. We tailor all of our mentorships to address just that.
So here's what I love. I love to work with people who spend their hours and days fighting for the rights of others. I love the reminder (at a time when the whole planet feels at war) that there are smart, tireless, hard working people who dedicate their lives to make the country a more livable, fair and just place to live. And I love that we get to make a difference – helping them in any and all small and big ways to win their campaigns over the long haul.
You inspire me.
Thank you.