After a great run, the Winning the Internet blog has been retired. However, you can still keep in touch with New Media Mentors here.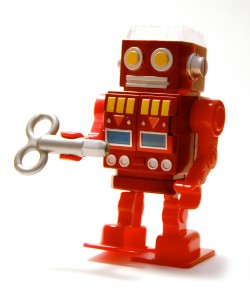 For the last year I've been on a quest to figure out what it takes to turn an organization's new media program into a successful one. I've mentored seven incredible organizations as part of our New Media Mentors program, and have learned a ton in the process. All this week I'll be publishing my key take-aways from our pilot.
My first one's a doozy: Focus on ROI, not new toys

The New Media Mentors program covers all new media, but social media is really what makes most peoples' mouths water. Even the busiest organizers hunger for the grandeur that social media evangelists have promised them—multitudes of enthusiastic and engaged supporters, and money that's fairly easy to come by. Who wouldn't want that?
It's no wonder folks are so excited about social media. It's hard to escape the hype of the latest, and supposedly greatest, social tools. Sometimes it feels like everywhere I turn there's another social media evangelist telling me I should be using Scoop.it, SlideShare, Tumblr, StumbleUpon, Pinterest—whatever's hot that week.
It's impossible for most online organizers to keep up with all of the new tools, so they turn to social media experts for advice. I'm not sure if it's a pressure to publish blog content, an attempt to cling to their "expert" status, or true excitement over sparkly new toys, but it is surprisingly common to see folks promoting the use of new tools without any mention of strategy or ROI.
The fact of the matter is that for most organizations, email and Facebook are their top performing new media tools. They may not be sexy and new but, more importantly, they work! If your organization does not yet have stellar email and Facebook programs, please, please, please spend time on these before experimenting with new tools. This means developing a strategy, following best practices, testing, measuring and analyzing results regularly. It's important to get a positive return on your investment—especially if you've got limited staff time and resources.
Once you've got solid email and Facebook programs, feel free to experiment with Twitter and other social media tools—just be sure to consider the costs involved and use the same process described above. Please don't get me wrong—I'm a big fan of social media and we spend a lot of time talking about social media in our mentorships. The key is to make sure you're using social media tools strategically. Don't let social media "experts" mislead you with their shiny objects!
Photo by Sasan Saidi.