After a great run, the Winning the Internet blog has been retired. However, you can still keep in touch with New Media Mentors here.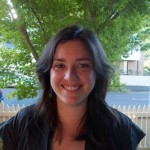 As we get ready for Netroots Nation 2014, we're taking a closer look at some of the convention's most exciting training sessions. We're interviewing the trainers and taking you inside some of online activism's most popular and elusive topics.
Today we're interviewing May Miller-Dawkins, who'll be leading Using theories of change to campaign and win.
NN14 Training Session

Using theories of change to campaign and win
We all campaign on the basis of theories about how change will happen, whether these are explicit or just our standard operating assumptions. This training will focus on how we make the implicit explicit so we can organize and campaign for change more effectively. Corelab will use its original research on theories of change in campaigns to stimulate discussion about what theories of change are, and what implications they have for how we campaign. Secondly, participants will make their own theories of change explicit by identifying assumptions and preconditions for change. Participants can work individually or with others to build a theory of change for a current or future campaign.
Interview
Q: Tell us about yourself and your experience developing theories of change for campaigns.

A: I started doing youth organizing when I was 15, setting up a state-wide non-partisan political organisation. However it was only when I started campaigning on harder political issues in university – such as refugee rights and same sex relationship rights – that I realised that I hadn't previously had a clear theory about how my work would lead to change.
In my work on same sex relationship equality I saw how a strong theory of change and targeted strategy allowed us to win – changing over 100 areas of Federal Law in Australia. I ended up coordinating an international network for Oxfam International and working with activists from 90 countries on their strategies for change. Then I spent 4 years as Oxfam Australia's Research Manager where I worked with country teams and local civil society on their theories for change and in depth research – particularly across the Asia-Pacific.
Throughout all that work I honed my ability to help draw out what groups were trying to do – even if they didn't think they had a theory of change themselves.
Now I work with lots of NGOs on their campaign and advocacy strategy and the research to support it. I recently published a study on theories of change for engaging people on global issues 9 Ways to Change the World?
Q: In your opinion, what is the most common mistake that organizations make when developing a theory of change?

A: Creating a good theory of change – in which we test our assumptions and really look at how we understand what the preconditions for change might be – is difficult.
The most common pitfalls are that organisations work forwards from their activities or tactics to their objectives rather than working back from the ultimate change they want through understanding the preconditions for that change. Working forward can lock us in to what we are comfortable doing or have done before, even if this isn't what is our best contribution to change. Working back can reveal various paths to change and what an organisation's contribution can be.
Q: What are the two most important things to keep in mind when developing a theory of change?

A: Keep in mind that having a big picture theory of change doesn't mean that you have to do everything – it means that you can see your contribution more clearly and value the contributions of others.
A theory of change helps you to surface your assumptions about how change happens and these can be used to target your work, adapt as the political circumstances change and evaluate whether or not you made a difference more effectively.
Q: Why should folks attend your session at Netroots Nation and how can they connect with you?

A: If you wanted to have an aha moment about your own work and use theory of change to win more often come to this session! You can connect with me via twitter – @maykmd if you have any questions.
To attend this training, or one of the 39 others at Netroots Nation 2014 in Detroit, register now.