After a great run, the Winning the Internet blog has been retired. However, you can still keep in touch with New Media Mentors here.

Ever wonder how your organization's new media program compares to other nonprofits'? Three reports were just released that can help you answer that question.
First up is M+R and NTEN's 2012 eNonprofits Benchmarks Study. This is one of my favorites because it's light on text and easy to parse quickly. This report focuses heavily on measurable results, so you'll find things like average email and social media stats by vertical, and easily digestible tidbits like this: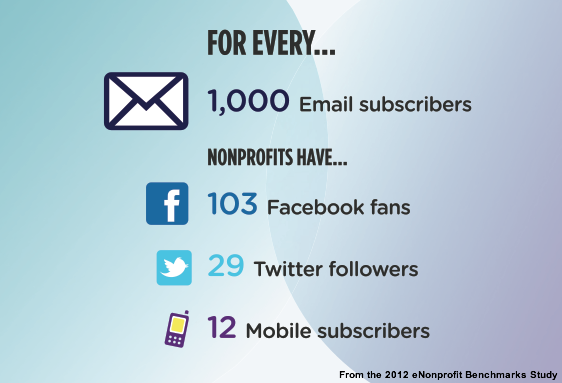 One of the things I like about this study is that they make an effort to collect data from organizations of various sizes. So, if your organization is on the smaller size, it's still fair to use this report to see how you measure up.
Blackbaud released their Nonprofit Social Network Benchmark Report. This report is interesting because it looks at how organizations are using social media, from an operations standpoint.
In this one you'll find info about how many employees organizations have devoted to social media, how organizations are using Facebook advertising, what drives success on social networks, etc. (Surprise, surprise: the number 1 factor for success is having a strategy!). They also surveyed organizations of various sizes.
Finally, Convio also came out with their own study this week. The content is similar to the eNonprofits study, though the report is bigger and tougher to read. Personally I'd take this study with a grain of salt – especially for smaller organizations. The data was pulled from Convio's own tools. These tools are very expensive and as a result the organizations that use them tend to be a bit bigger.
Happy benchmarking!